Social Circle Restaurant & Bar
Savor the flavors of inspired dining at our in-house restaurant and bar. Whether you need a quick grab-and-go snack or you're working through mealtime, we make it easy to order a truly delicious meal that is guaranteed to satisfy your palate. Philadelphia's thriving restaurant scene sets the standard by which our gourmet chefs create one-of-a-kind dishes that use as many locally-sourced ingredients as possible.
Free WiFi is available to all our guests, making it easy to check emails and stay connected while sipping your morning coffee or waiting for your meal to arrive. If you're seeking a stylish location to meet friends or colleagues before dinner or a night on the town, our cocktail bar servers are ready to mix, shake or stir your favorite refreshments. Your next fulfilling dining experience is just one order away at Cambria Hotel Philadelphia Downtown Center City.
Hours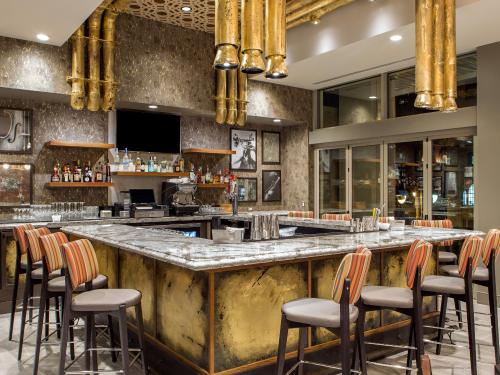 Breakfast
- Monday - Friday
- Saturday & Sunday
Lunch
- Closed
Dinner/Bar
- Monday - Friday
Happy Hour